This is part of The Post and Courier's Monday Meal Prep series, a monthly column exploring approachable weeknight recipes.
School may be out at this time of year, but everyone's still hungry. The heat is making time in the kitchen cooking dinner even less fun. Take some advice from author Ali Slagle, who offers 150 "low-effort high-reward recipes" like the two below in her new cookbook, "I Dream of Dinner (so you don't have to)." These are recipes to "meet you wherever you are: hungry, hurt, happy."
Limited ingredients. Quick. Easy.
Skillet Chicken Thighs with Peas and Pickled Chiles
For 4 people
Bone-in, skin-on chicken thighs
salt and pepper
Fresh chiles: Red Fresno or Thai
Sugar
rice vinegar
snap peas
mint or dill
frozen peas
Crumbly cheese: feta, Cotija or ricotta salata
Pat 2 pounds bone-in, skin-on chicken thighs dry and season with 1 teaspoon salt and some pepper. Drizzle 1 tablespoon olive oil in a large cast-iron skillet or Dutch oven. Add the thighs, skin side down, and set over medium. Cook, undisturbed, until the skin is deep golden brown and unstuck from the pan, about 15 minutes. If your stove is getting splattered, cover the skillet with a baking sheet. Flip the thighs over and cook until the meat is cooked through, 10 to 15 minutes.
Meanwhile, thinly slice 2 fresh chiles (red Fresno, Thai). Add to a medium bowl with 1 tablespoon sugar, 3 tablespoons unseasoned rice vinegar and 2 teaspoons salt. Pour ¼ cup boiling water over the chiles and stir to dissolve the sugar. This makes a quick pickle.
Trim 4 cups snap peas, then thinly slice on a very sharp diagonal so they're almost shredded. Pluck 1 cup mint and dill leaves.
Transfer the chicken skin side up to a plate, leaving the fat behind. Still over medium, add 2 cups frozen peas (10 ounces) and the pickled chile mixture to the pan. Cook, scraping the bottom of the pan for browned bits, until the peas are cooked through, 3 to 4 minutes. Off the heat, add the snap peas and herbs and crumble ½ cup crumbly cheese (feta, Cotija, ricotta salata) over. Stir just once or twice to coat.
More veg choices for skillet chickens:
• Asparagus + corn + turmeric + cumin seeds
• Escarole + white beans + honey + chili flakes
• Peppers + onions + za'atar
• Cauliflower + dates + dill
Swordfish with Asparagus and Little Beans
For 4 people
olive oil
lemons
red pepper flakes
salt and pepper
Swordfish (or mahi mahi)
Canned white beans: Navy or Great Northern
Asparagus
Garlic
Mint, dill, basil, parsley or a combination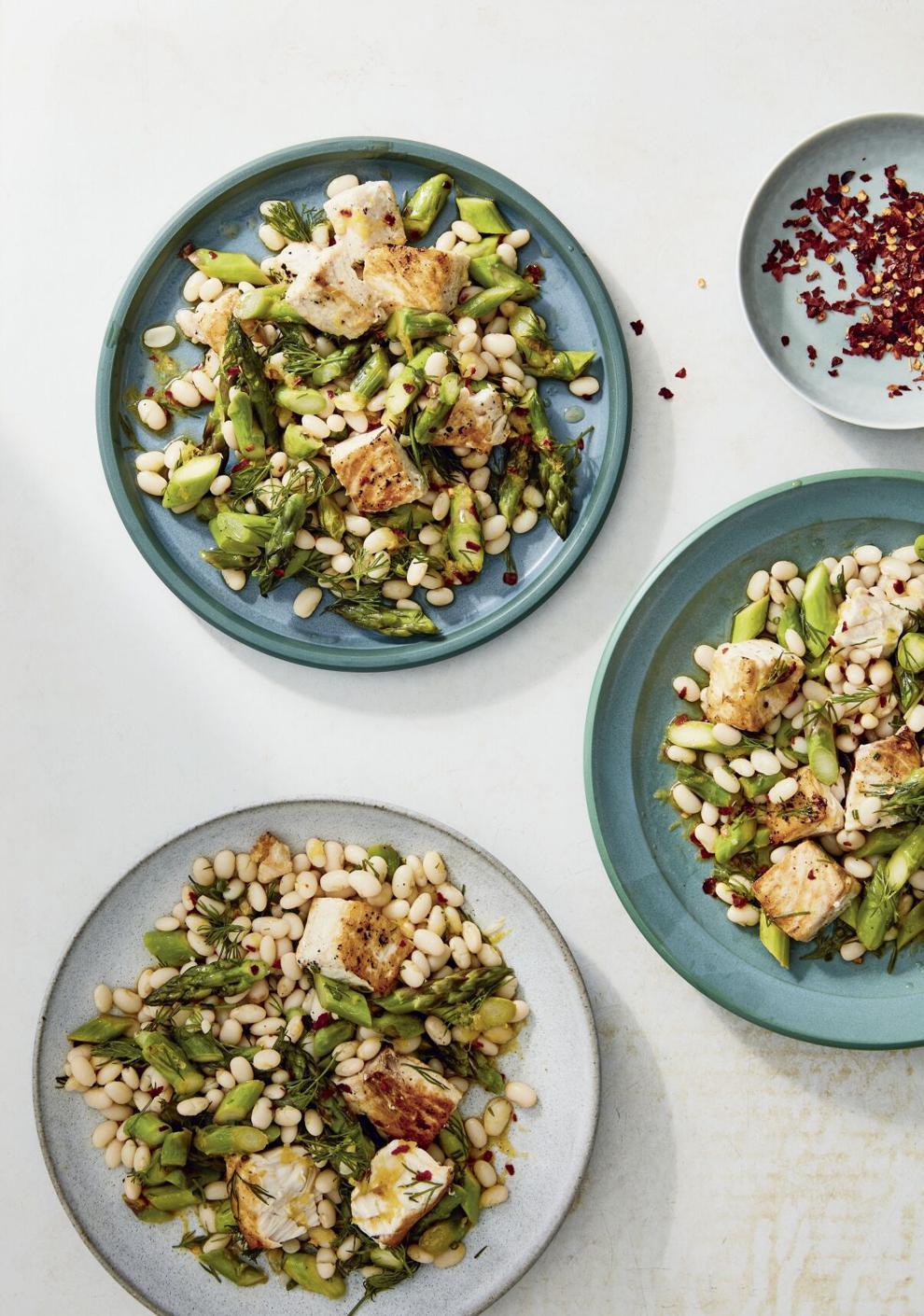 Pour ½ cup olive oil into a liquid measuring cup. Zest and juice 2 lemons into the cup (about 6 tablespoons juice). Add 1 teaspoon red pepper flakes and season to taste with salt and pepper.
Cut off and discard the skin from 1½ pounds (1-inch-thick) swordfish steaks (or mahi mahi). Pat dry, then cut into 1-inch pieces. Toss with salt and pepper.
Drain and rinse 2 (15-ounce) cans little white beans (Navy, Great Northern). Trim and thinly slice 1 pound asparagus and 1 garlic clove. Pluck ½ cup leaves of mint, dill, basil, parsley or a combination.
Heat 2 tablespoons olive oil in a large skillet over medium. Add the beans, asparagus, garlic, and ¼ cup water. Season with salt and pepper and cook until the beans are warm and the asparagus is crisp-tender, 3 to 5 minutes. Transfer to a bowl and mix in a couple of tablespoons of the lemon dressing. Season to taste with salt and pepper.
Heat another 2 tablespoons olive oil in the skillet over medium. Add the fish and cook, stirring from time to time, until the fish flakes easily, 5 to 7 minutes. Add the herbs and fish to the beans and stir once. Season with salt and pepper and the lemon dressing. Good warm or at room temp.
• Good with orzo, Israeli couscous, bulgur or toasted breadcrumbs.
• Thinly slicing your asparagus like this works for young, middle-aged and chunky spears.
Reprinted from I Dream of Dinner. Copyright © 2022 by Alexandra Slagle. Photographs copyright © 2022 by Mark Weinberg. Published by Clarkson Potter, an imprint of Random House.