Potato dishes can be confusing. Sure, it's easy to tell baked from mashed from french fries, but when you start getting into potatoes au gratin vs. scalloped potatoes vs. dauphinoise potatoes, the lines begin to blur. While Food Network says that dauphinoise potatoes typically do not contain cheese, some recipes (including this one) do call for it. Potato, po-tah-to — call it what you like, this creamy, cheesy dish is pretty darn delicious.
Recipe developer Ting Dalton describes these dauphinoise potatoes as "indulgent, creamy and delicious," and says this dish is "a French classic [that's] perfect to serve with steaks and roasted meats such as pork." She also notes that, should you be wanting to impress guests, you could even break out your ramekins and create individual serving-sized portions. In order to simplify any last-minute dinner party preparations, she even suggests making this dish the night before, then refrigerating it until it's time to bake.
Gather the ingredients for dauphinoise potatoes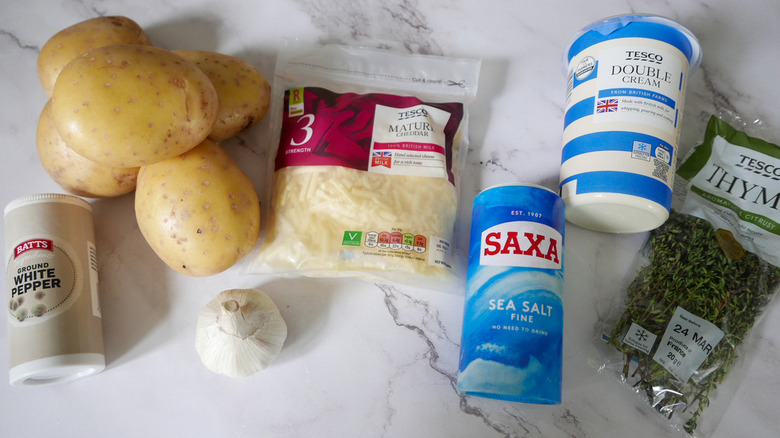 Ting Dalton/Mashed
For starters, you'll need some potatoes for this recipe, and Dalton notes that russets are the best option here. You'll also need garlic, fresh thyme (leaves only), cheddar cheese, salt, and white pepper.
Slice the potatoes and mix the cream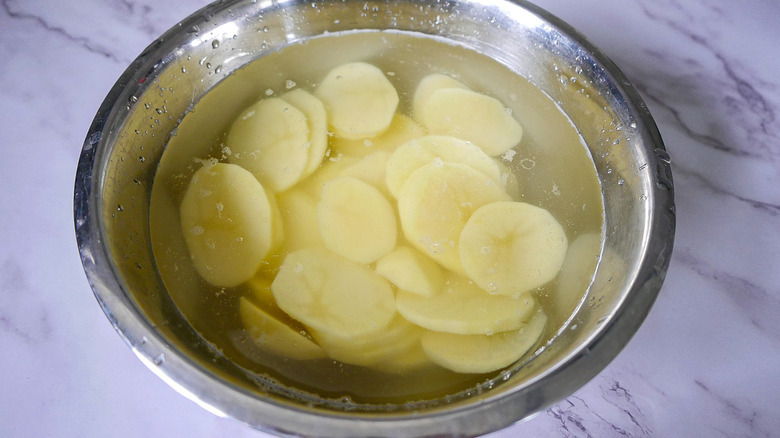 Ting Dalton/Mashed
Start by peeling and slicing the potatoes, although Dalton notes that you won't need a fancy slicer. She says a knife will do to slice the potatoes ¼ to ½-inch thick, but, as she tells us, "They don't have to be perfect. The potatoes will be layered, so [the dish is] quite forgiving." Once the potatoes are sliced, soak them in cold water to get some of the starch out while you get on with the rest of the prep.
Preheat the oven to 300 F, then grease up a baking pan. Mix the heavy cream with the salt, pepper, and the leaves from two thyme sprigs. Now drain those potatoes and gently pat them dry.
Assemble the casserole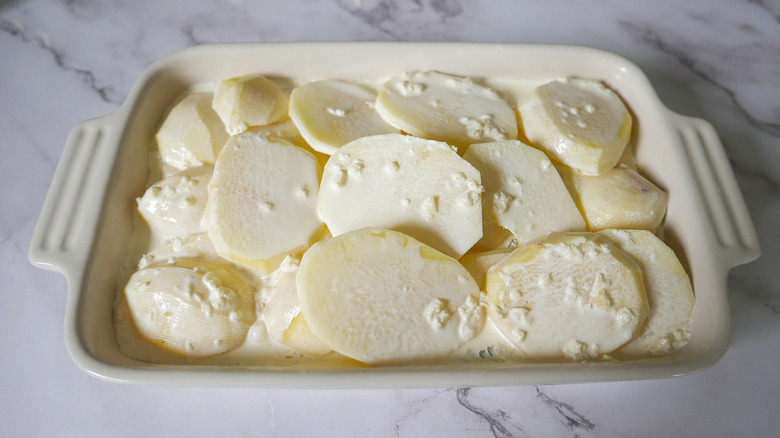 Ting Dalton/Mashed
Layer some of the potatoes over the bottom of the baking pan, then top them with a layer of cream. Repeat the layering until you've used up all the potatoes, then finish off with a layer of cream. In fact, you can just pour the remaining cream over the top.
Bake the potatoes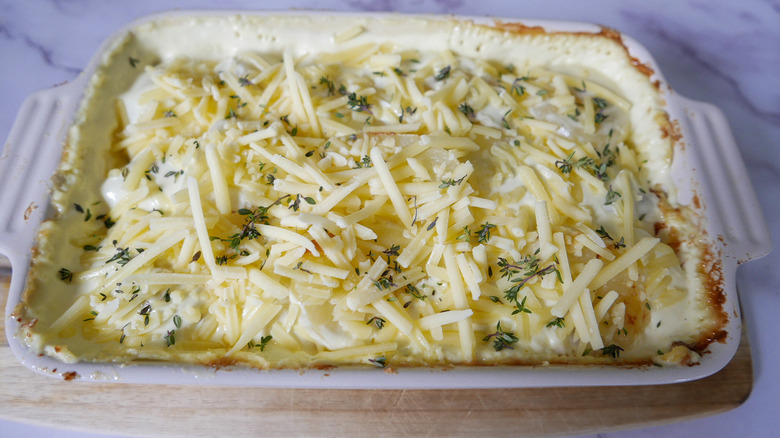 Ting Dalton/Mashed
Cover the pan with foil and bake the potatoes for an hour. Once the hour is up, take the pan out of the oven, remove the foil, then sprinkle the cheddar over the top. Finish off with the remaining thyme leaves. Bake the potatoes — uncovered, this time — for another 15 minutes until the cheese gets bubbly and melts. Like many potato dishes, these dauphinoise potatoes are best enjoyed hot, and you'll savor in the creamy, cheesy goodness!