If you are a fan of artichokes and are looking for a new, quick, and easy way to cook them, then look no further than this air fryer recipe. Plain and simple — the air fryer is a wonderful way to cook artichokes, and it crisps them up in the most perfect way. Just serve with your favorite dipping sauce, dunk, and repeat, until they're all gone.
Recipe developer Miriam Hahn came up with this easy recipe, and there's no doubt that it will leave you wanting more. "My favorite thing about this recipe is how quick and easy it is," Hahn shares. She adds that making artichokes is usually slow, but this method is much faster. "Plus, the outside of the leaves crisp up a bit and hold on to the seasonings, so you get more flavor when eating," Hahn adds.
Another great part about this dish is that it can be served as an appetizers or side dish. "They aren't super filling, so I think they make a great appetizer because you will still have room for a meal," Hahn says.
Gather the ingredients for air-fried artichokes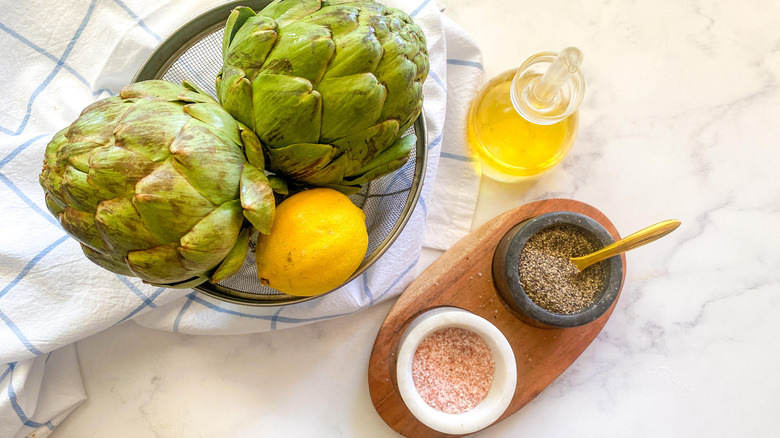 Miriam Hahn/Mashed
This recipe requires just a handful of ingredients. You need two medium artichokes, olive oil, lemon, salt, and pepper.
Wash and trim the artichokes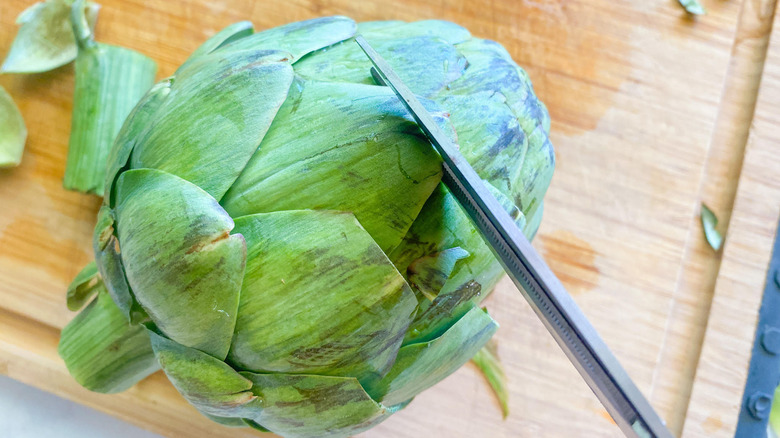 Miriam Hahn/Mashed
Grab your artichokes and give them a good wash. Next, trim the stem off of each artichoke, so there's only about 1 inch left. There's still a little more cutting to do. Snip the point leaves off of the artichokes and then cut about ½ inch of the top part of the artichoke.
Cut the artichokes in half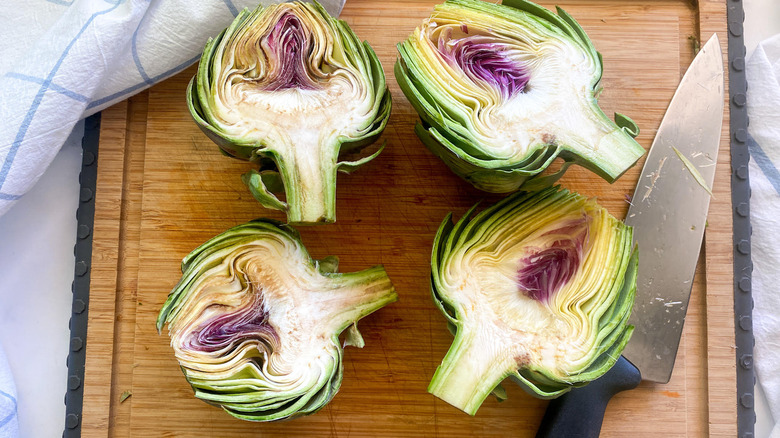 Miriam Hahn/Mashed
Don't put the knife away just yet. Now, cut the artichokes in half. If you'd like, you can remove the fuzzy part from the center or just leave it in and avoid eating it.
Place artichokes in air fryer and brush with oil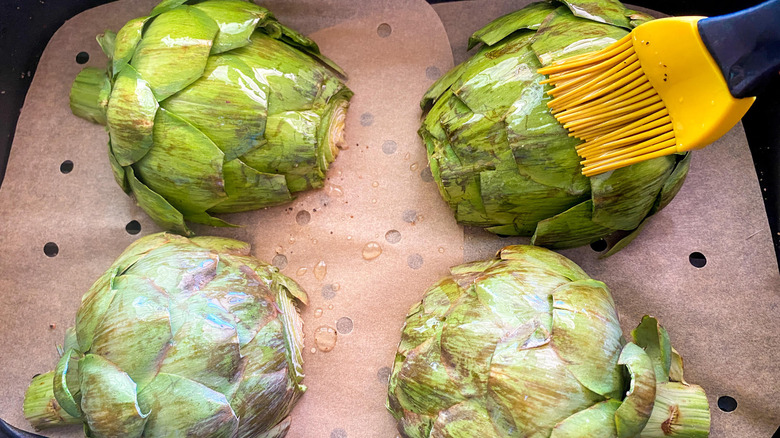 Miriam Hahn/Mashed
Grab the tray of your air fryer and lay the artichoke halves face-up. Brush the top of the artichokes with oil and then squeeze about ¼ of the lemon on each half. Sprinkle with a little bit of salt and pepper to taste.
Then, flip the artichokes over, so they are face-down. Once again, brush with oil and sprinkle with some salt and pepper.
Air fry and flip the artichokes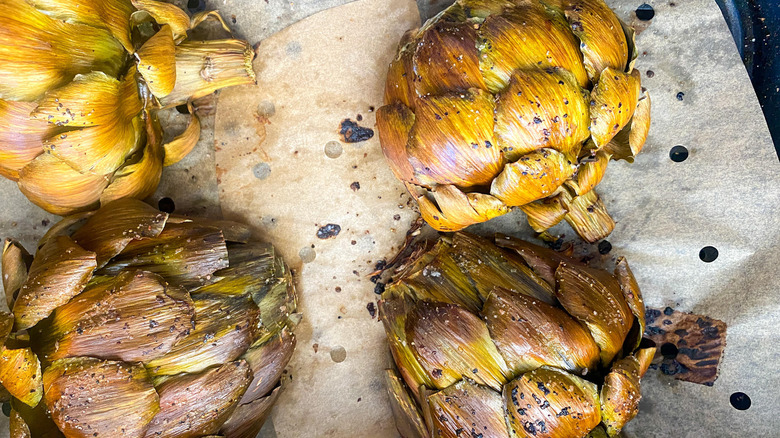 Miriam Hahn/Mashed
Set the temperature of the air fryer to 350 F. Then, set your timer for 15 minutes. Once the timer dings, flip the artichokes over, so they are face up, and cook for an additional 15 minutes. You can check for doneness when you can pull out the leaves easily. "Cook time will vary based on the artichoke size and your air fryer. But the nice thing about the air fryer, is you can easily interrupt cooking time and check. If they are not done, you just slide the basket back in," Hahn shares.
Serve your air-fried artichokes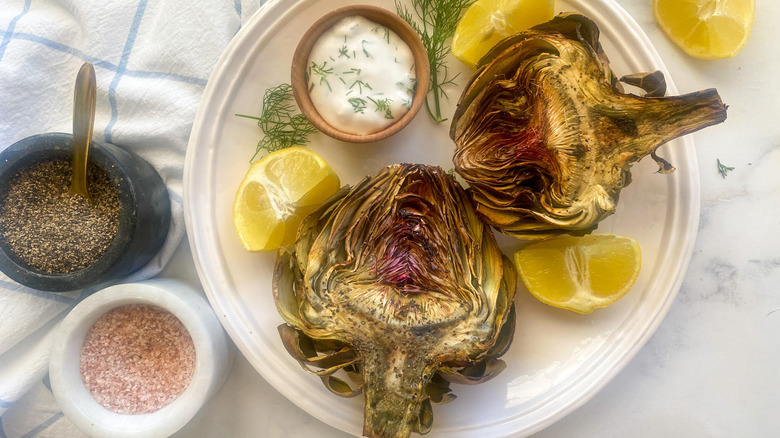 Miriam Hahn/Mashed
Remove the artichokes from the air fryer and serve as you wish. You can pair with any type of dipping sauce that you'd like. "Artichokes go nicely with any entree. Fish, meat, chicken, pasta, soups, or salads. I feel like artichokes make any meal a little fancier," Hahn shares.
Hahn also suggests serving these with melted butter, sour cream, or salt and fresh dill. "Other ideas would be olive oil, Dijon mustard, and lemon or Greek yogurt with lemon and dill. You can also use a pre-made ranch or blue cheese dressing to keep it easy," Hahn shares.
You can keep leftovers and "just warm up in the microwave or pop back into the air fryer," Hahn shares.