There really is nothing like roasting a whole chicken with hearty vegetables on a chilly weeknight. Between the mouthwatering spices, the crispy chicken skin, and the juicy vegetables, it truly is one of the most magical, comforting, cozy meals of all time. That's why, as the weather gets cooler, we enjoy having a few roasted chicken recipes in our arsenal to turn to on busy weeknights when we need something easy to throw in the oven for dinner.
What's the difference between baked and roasted chicken?
We're glad you asked. While we have numerous baked chicken recipes you can turn to for weeknight meals, some experts say roasting chicken is a bit different due to the temperature it cooks at. Baked chicken is usually cooked in the oven below 375 degrees Fareinheight, while roasted chicken recipes cook at around 400 and above. Other cooking experts would argue this point, saying that roasting is defined by the type of food you cook in the oven (meat, vegetables, potatoes) while baking is meant for treats like bread, desserts, or anything else that requires a leaving agent of some kind.
For the purpose of our roundup, we created a list of roasted chicken recipes that cook at 400 degrees or more. Some of these recipes work with a whole chicken—perfect for a family—while others work with smaller amounts of chicken, like just cooking the breasts or the legs.
Here are our favorite roasted chicken recipes to cook up on cozy nights at home. Then, for more recipe inspiration, be sure to check out our list of the 100 Easiest Recipes You Can Make and sign up for our newsletter for daily meal inspiration!
Roast up an entire chicken to enjoy with your family, or simply make it at the beginning of the week and use the chicken all week long by with our 20+ Easy Healthy Recipes That Start with a Rotisserie Chicken.
Get our recipe for Herb Roast Chicken with Root Vegetables.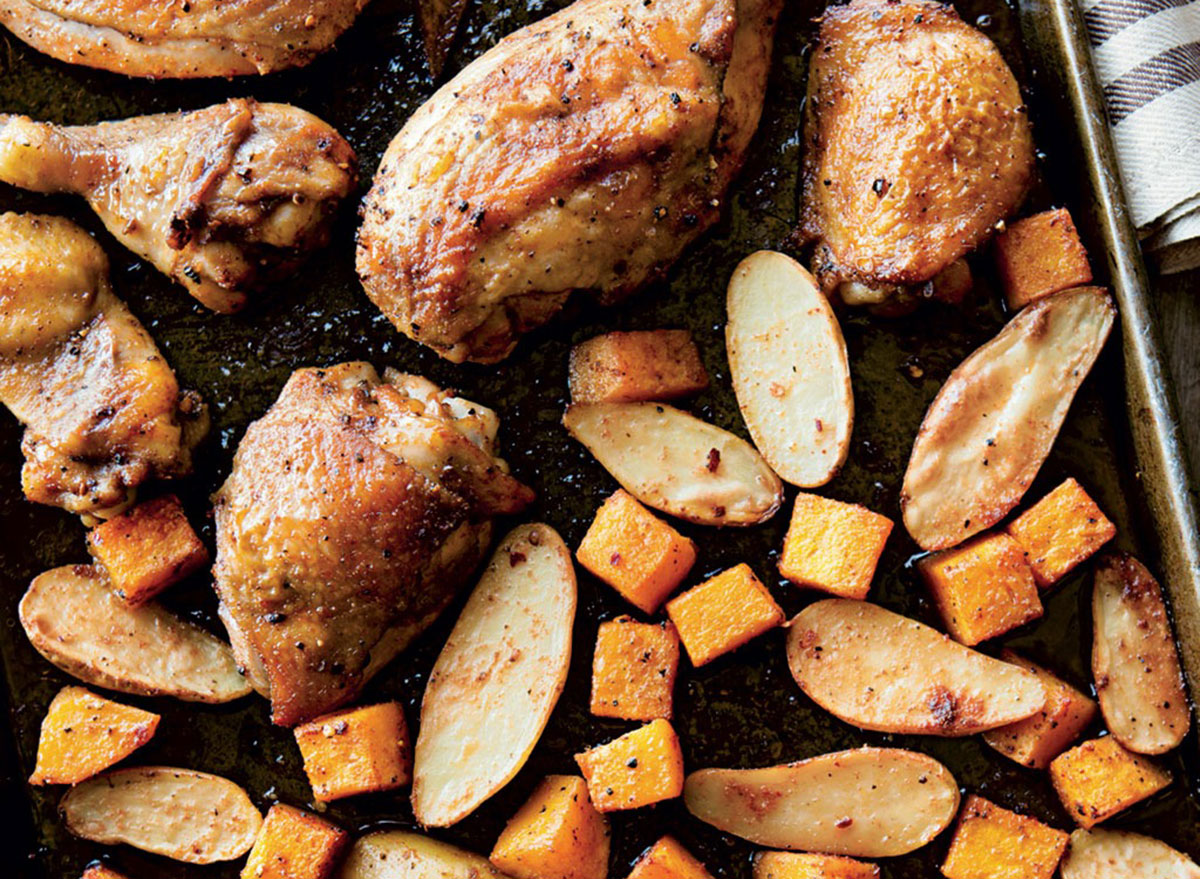 For an easy fall-flavored weeknight meal, this roast chicken cooks up different parts instead of an entire bird along with other hearty vegetables.
Get our recipe for Roast Chicken and Vegetables with Fall Spices.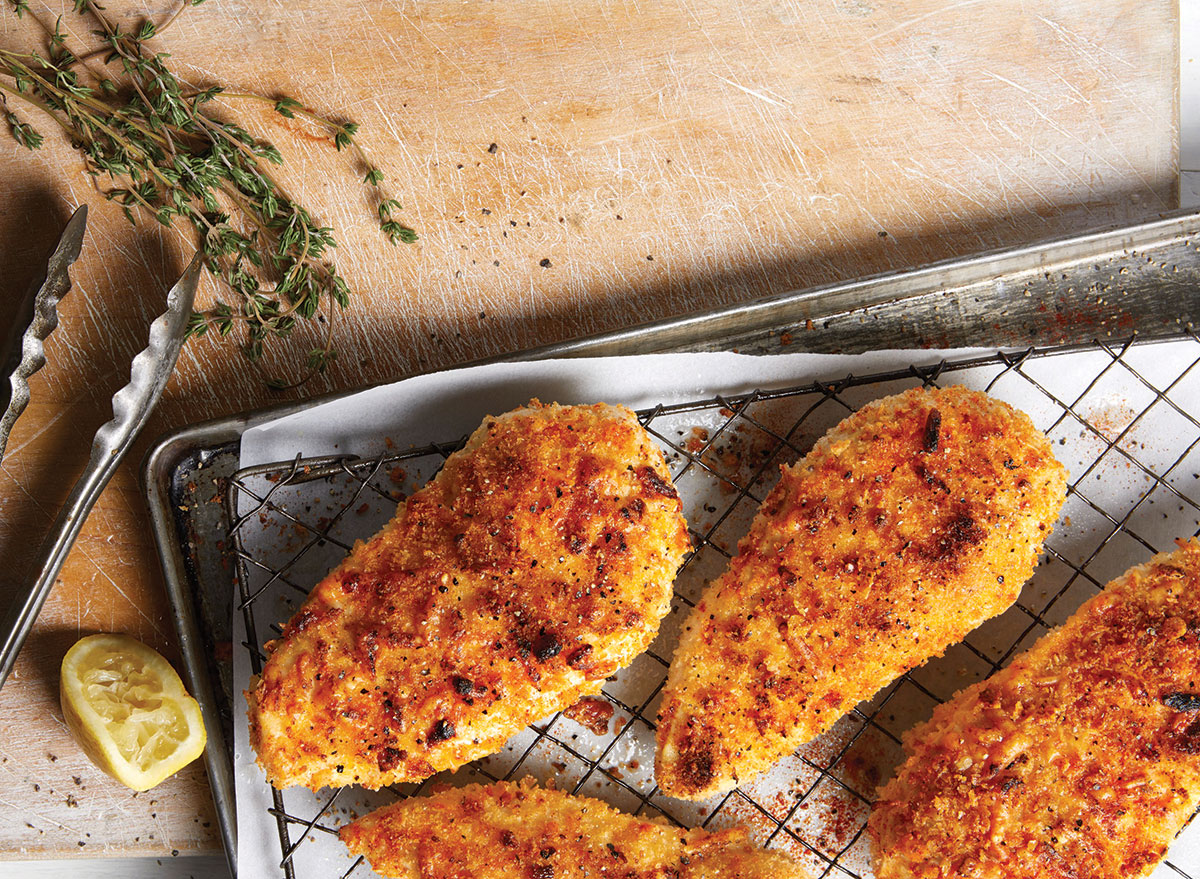 This crispy chicken is flavored to perfection and one of those perfect roasted chicken recipes that can go with any side you desire. Roasted broccoli? Rosemary potatoes? The world is your oyster.
Get our recipe for Healthy Crispy Chicken Breast.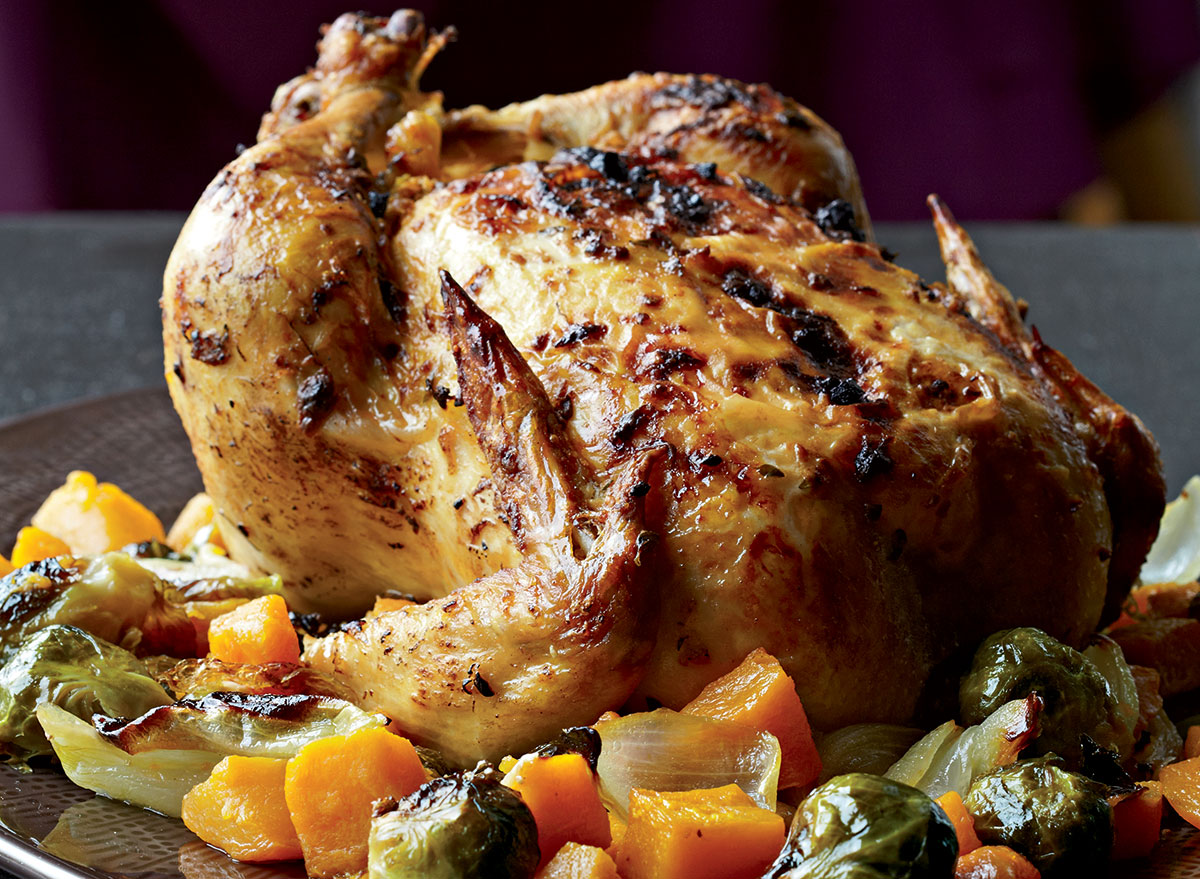 It's our take on the classic Sunday roast—complete with hearty, good-for-you vegetables and a crispy chicken skin that will have you wanting to make this every weekend of your life.
Get our recipe for Sunday Roast Chicken.
This crispy chicken parm is a healthier take on the usual restaurant favorite, served on a simple bed of cooked spinach greens with garlic.6254a4d1642c605c54bf1cab17d50f1e
Get our recipe for Chicken Parm with Spinach.
Looking for clever roasted chicken recipes that use up boneless, skinless chicken breast? This Mediterranean-inspired chicken is easy to make and will be on your table in less than 30 minutes.
Get our recipe for Mediterranean-Inspired Chicken with Tomatoes and Capers.
This flavorful take on the roasted chicken is served with a side of lemony cauliflower that is roasted to perfection.
Get our recipe for Tandoori Chicken Legs with Basil-Roasted Cauliflower and Pecans.
Who doesn't love an easy sheet pan meal? This five-ingredient barbecue chicken dinner barely takes time to throw together and cooks in a flash in your oven.
Get our recipe for 5-Ingredient Barbecue Chicken Sheet Pan Dinner.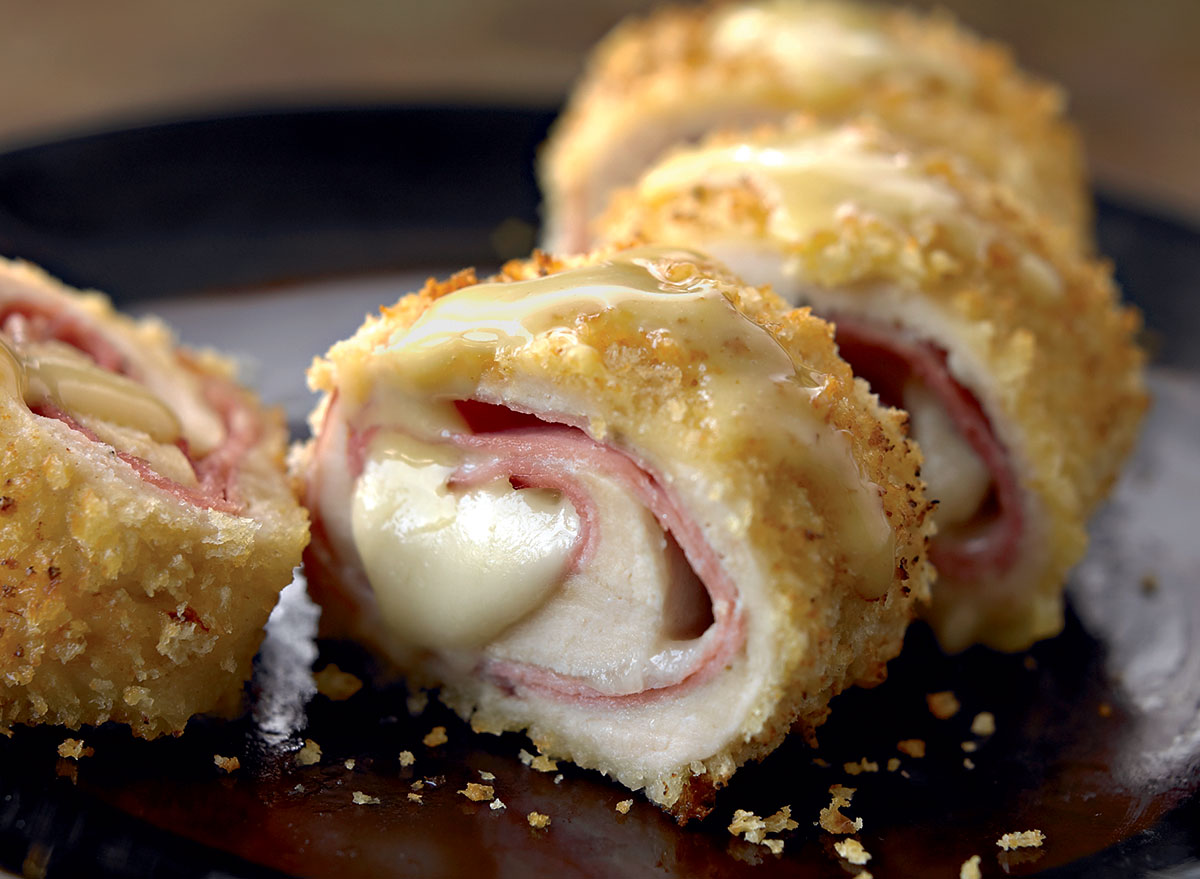 This cordon blue recipe is stuffed with goodness, bathed in breadcrumbs, and roasts in the oven for just under 20 minutes for the perfect elegant weeknight meal.
Get our recipe for Chicken Cordon Bleu with Honey Mustard.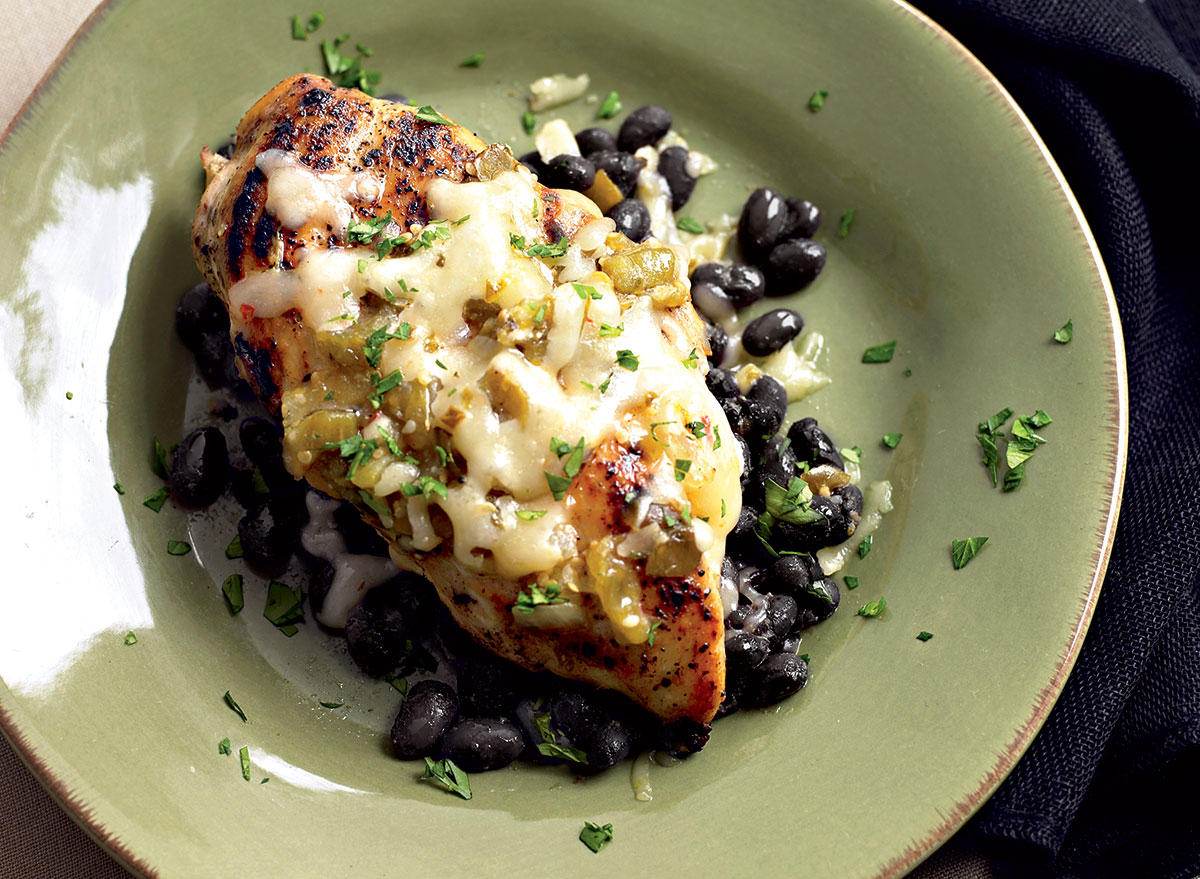 Craving tacos but don't have tortillas? This margarita chicken recipe uses up your salsa, cheese, and that can of black beans in your pantry that will satisfy your taco craving instantly.
Get our recipe for Margarita Chicken.
This smoky roasted chicken is perfectly paired with savory green beans (cooked with bacon!) and is even compliant with the keto diet.
Get our recipe for Smoky Paprika Roast Chicken with Savory Green Beans.
Another easy sheet pan meal! This chicken fajitas sheet pan dinner makes taco Tuesday an even easier weeknight event.
Get our recipe for Sheet Pan Chicken Fajitas.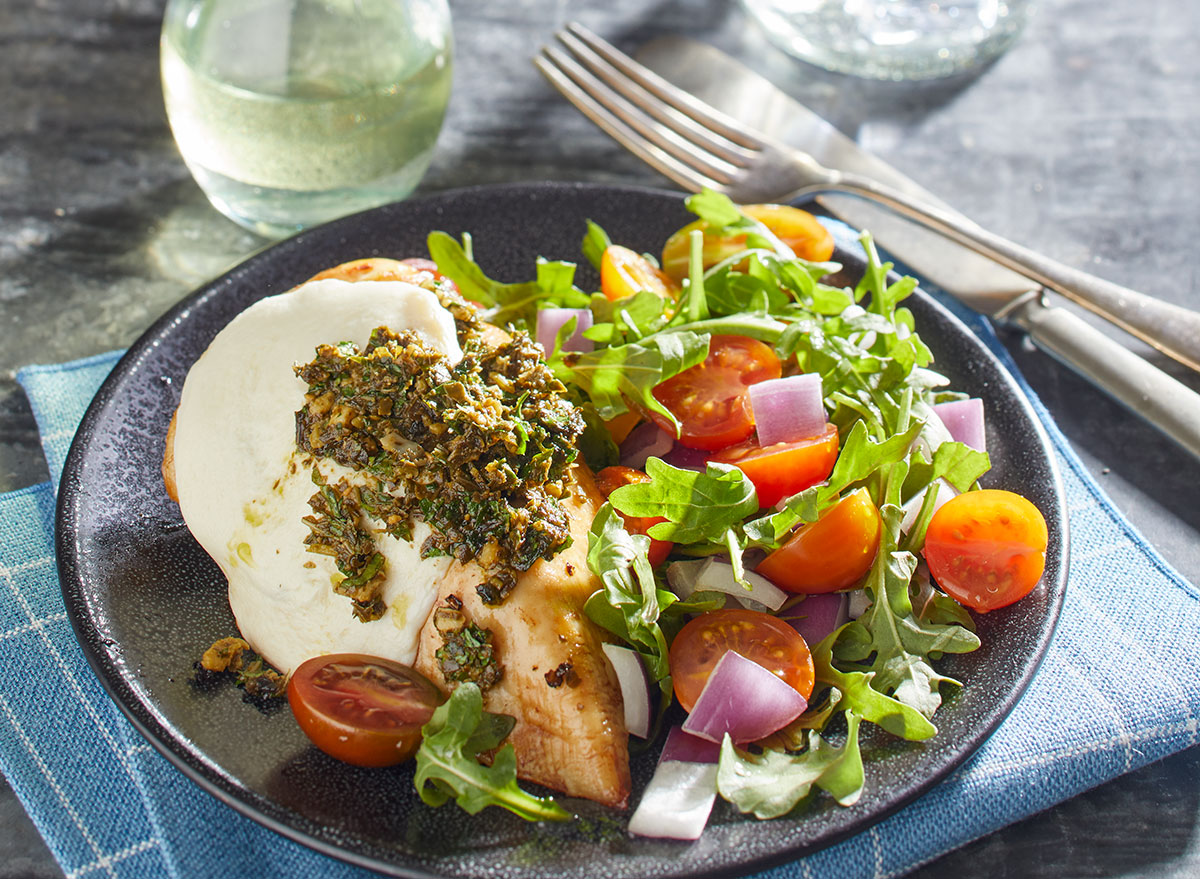 This roasted chicken recipe barely calls for any ingredients and will have you enjoying a healthy weeknight meal in just under 30 minutes.
Get our recipe for Pesto Chicken Recipe.
This delicious low-carb dinner option roasts chicken on skewers right on a baking sheet, spiced to perfection, and served on a bed of seasoned celeriac rice.
Get our recipe for Chicken Kebabs with Celeriac Rice.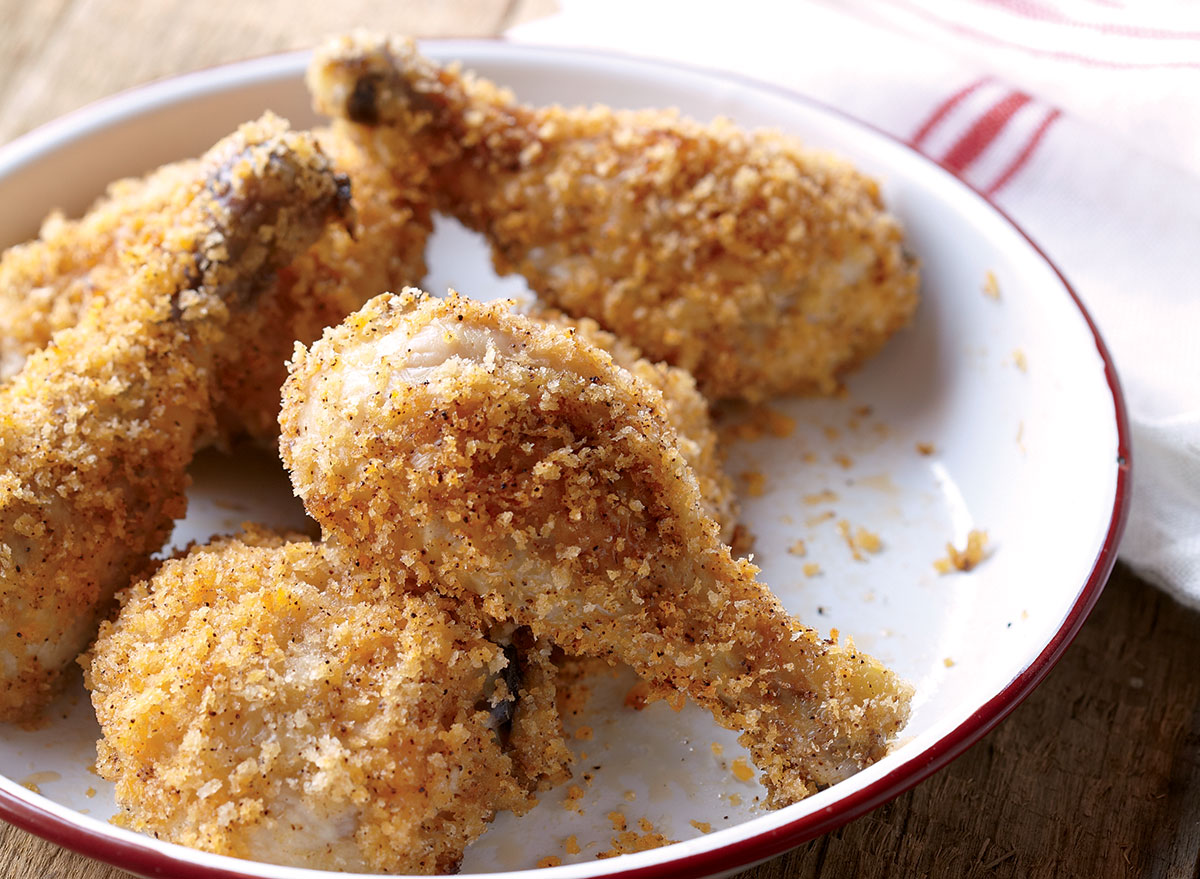 We may have cheated a little on this one (it cooks at 350, not 400) but we couldn't help but add a classic crispy chicken favorite of ours. This crispy, juicy, light oven-fried chicken recipe is especially delicious with a side of our sweet potato fries!
Get our recipe for Oven-Fried Chicken.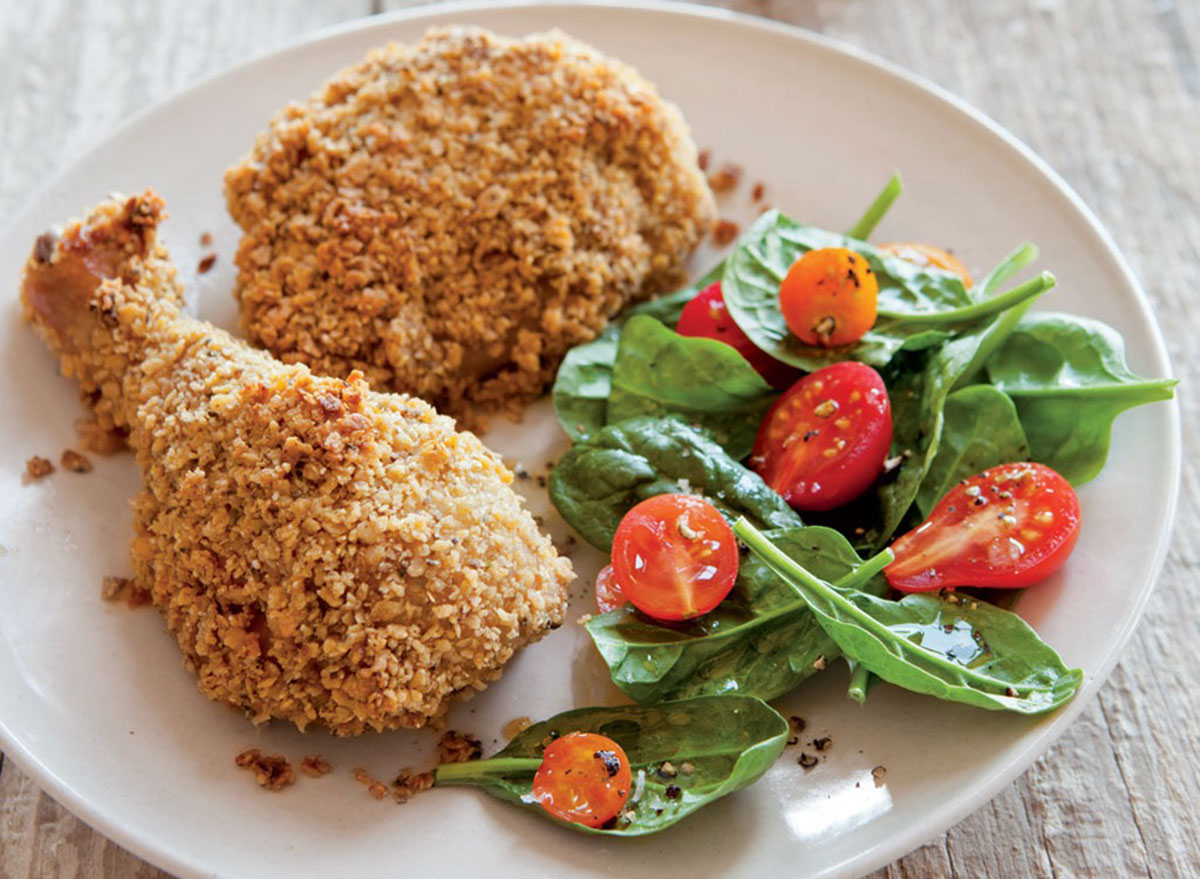 Looking for a gluten-free breaded chicken recipe? Save this simple weeknight meal for later!
Get our recipe for Gluten-Free Oven-Fried Chicken with Baby Spinach Salad.
We admit, this meal technically isn't a roasted chicken. It actually cooks in the slow cooker! But between the hearty vegetables and the deliciously juicy chicken, it has the same vibe that you want when looking for cozy roasted chicken recipes, so we had to add it in.
Get our recipe for Maple-Balsamic Chicken and Vegetables.
Kiersten-Hickman
Kiersten Hickman is a Deputy Editor at Eat This, Not That!, with a main focus on food coverage, nutrition, and recipe development. Read more